FOR IMMEEDIATE RELEASE
Bryan Fuller hired as new designer for ROYL GARAGE
Royl Garage Press Release
August 10, 2023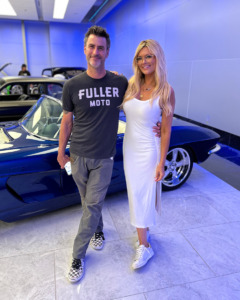 From Courtney Hansen: "I'm thrilled to announce that world renowned car and bike customizer and TV personality, Bryan Fuller is our new designer and lead builder on season two of Ride Of Your Life With Courtney Hansen for MotorTrendTV and MotorTrend+! Bryan and I have been friends for 20 years and first worked together on the hit show Overhaulin' with car designing legend, Chip Foose. Bryan and our team at ROYL Garage look forward to building 10 gorgeous, one of a kind cars and trucks for worthy recipients in the second season of this highly rated primetime series that has become popular across the world."
Stay tuned to this website and MotorTrendTV and MotorTrend+ for exciting Season Two announcements soon!
About Royl Garage
Ride of Your Life with Courtney Hansen assembles an all-star team of the baddest custom car builders in the country led by one of the most talented women in the car restoration biz.
Courtney is the first female executive producer in television history to not only create and produce her own custom car restoration show but also own the garage where all the magic happens. (more info)
About Bryan Fuller
Incredibly passionate about his craft and making dreams come to life, Bryan created Fuller Moto as the ultimate toy shop and place to truly experience life to the full(er). Bryan is a Master Builder, Designer, TV Personality and Author. Bryan realized his passion for cars as an eighth grader while helping his dad rebuild a 1965 Ford Mustang. In High School he built two cars of his own, including a souped-up 1930 Ford Model A with a Chevy 327 V8 engine. At the time he considered building cars just a hobby and went on to college, earning a biology degree with the hopes of becoming a chiropractor. However, the unforeseen death of his father while at the early age of 20 changed all that. Bryan grew determined not to waste his life doing something he didn't absolutely love and and instead set out to make his passion his career.
###