COURTNEY HANSEN
OWNER, EXECUTIVE PRODUCER, HOST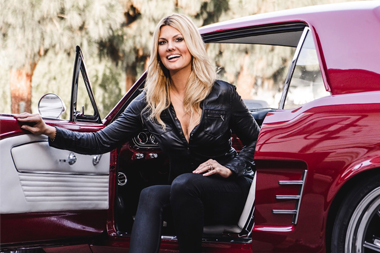 After working as a TV host for two decades, Courtney Hansen, fulfilled her dream of creating and producing her own television projects. In 2018 she created, raised the funding for and executive produced an auto-themed TV series called "The Ride That Got Away", which achieved stellar ratings and reviews after airing on History Channel and FYI Network. The series, which involves reuniting deserving people with their dream cars after first making them into customized works of art, is going into its second season, is being sold across the world and is live now on AmazonPrime. Courtney is currently developing numerous TV projects across a multitude of genres.
After several seasons of Overhaulin' Hansen went on to host 10 seasons of Powerblock/ PowerNation for Spike TV, and in later years for NBC Sports and CBS Sports, a two-hour block of 4 popular automotive shows. Each week she showed off million-dollar rides, rare classics and tricked vehicles and brought her enthusiasm and knowledge to interviews with famous collectors, race car drivers and celebrity guests like Jay Leno, UFC founder Dana White and actor Dax Shepard.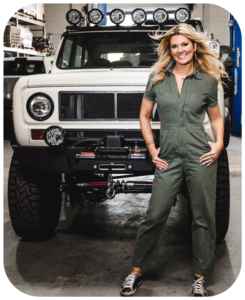 Hansen has worked with NASCAR, interviewing top Cup drivers, reporting from the track and pits and discussing the latest in automotive technology. She brought her knowledge and passion for cars to the role as host of the Velocity Channel series, "Vinsetta Garage", interviewing celebrities and immersing herself in car culture throughout the US. She hosted "Total Outdoorsman Challenge" for Versus Network, was a key player in Spike TV's live award show "Auto Rox ", and she hosted Spike TV's special, "Great Builds". Courtney hosted the prestigious Barrett-Jackson Auction's pre and post-auction shows for several years for Cox Communications. She frequently hosts satellite media tours for companies like Toyo Tires and Auto Trader. Her popularity and credibility have earned her the role of spokeswoman for major corporations like the Fortune 500 company 3M and Chevrolet. Courtney has appeared in numerous television commercials and has been interviewed about her knowledge and experience on many prime time shows, including The Tyra Banks Show and Late Late Show with Craig Ferguson.
Hansen's passion for automobiles may have made her a natural choice for shows like "Overhaulin'" & NASCAR, but she's certainly not just a car girl. An avid fashion devotee, Courtney was selected to host the red carpet for SpikeTV's "2012 Guy's Choice Awards", where she brought her charm, humor and ability to put subjects at ease in interviews with A-listers like Mila Kunis, Kit Harrington, Aaron Rogers and Malin Ackerman. Courtney's athleticism, adventurous side and love for travel were showcased on the Silver Telly Award-winning travel/adventure series, "Destination Wild" for Fox Sports, in which Courtney traveled across the United States, fearlessly tackling adventure sports from Class-5 whitewater rafting and motorcycle rallies to rodeo events and Olympic bobsledding. She was also the natural fit for Versus Network's series of outdoor adventure specials "The Total Outdoorsman Challenge". Courtney has also graced numerous magazine covers and was named one of FHM's "100 Sexiest Women in the World."
In addition to her work in television, Courtney is an accomplished author: her book, The Garage Girls Guide to Everything You Need to Know About Your Car was published in 2005 and targets women and first time car owners. She also writes a bi-weekly syndicated newspaper column found throughout the US and Canada titled "Courtney Hansen: Full Throttle," and formerly penned the "Garage Girl" column for FHM Magazine.
In 2005, Courtney was honored as the recipient of Ford's "Life in Drive" Award. This prestigious award recognizes women who combine talent with that little something extra that allows them to break free from convention to live life with style and attitude.
Courtney grew up a pit kid. Her family once owned Brainerd International Raceway, north of Hansen's hometown of Orono, Minnesota. Her father, Jerry Hansen is the winningest-driver in SCCA history with an astounding 27 national titles.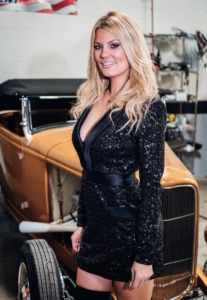 Hansen modeled and acted as a child and as a young teen attended an international talent competition where she took home several awards and was offered a contract in NYC with one of the largest theatrical agencies, which she turned down to pursue her education. During high school she became a spokeswoman for a major car dealership in Southwest Florida, appearing in 22 of their TV commercials. She earned a Bachelor's Degree in Marketing at Florida State University and went on to work for a short time as a marketing specialist for an investment firm before leaving the corporate world to pursue a career in entertainment.
Hansen brought her tenacious, mid-western work ethic to Los Angeles 18 years ago, a city she had never before visited, making a pact with herself to do at least one thing for her career each day, while never losing sight of her moral compass. Determined to make her own way, she waited tables in several restaurants simultaneously, worked as a corporate narrator and was a spokesperson for Rolls-Royce Motor Car, supporting herself and learning the business. Her hard work and determination landed her the hosting job on "Overhaulin'", and she has been working consistently on TV ever since.
Hansen's charitable endeavors will always be the most fulfilling part of her life. She sat on the board for the March of Dimes as well as the Painted Turtle Camp and now devotes time to the Progeria Research Foundation, Hot Rodders Children's Charities, the LA Mission and other philanthropic causes.
Caleb "RJ" Harris
@roylredjesus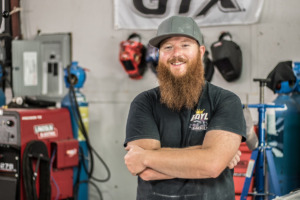 My name is Caleb Wayne Harris also known as RJ. I'm 26 years old and from East Tennessee. I'm pretty laid back and live by the motto that life is one big wave, and you've got two choices. Either you hop on and ride it out or let pass. Yeah, you might wipe out, but you'll never know how great it could be if you let that perfect wave get away.
I grew up in rural Illinois soaking in my dads stories of hot rodding. His tales of drag racing in his 1966 Plymouth Satellite and building Mopars inspired me to hope to get the chance to do it as well. We had always talked about finding "the car that got away" and building it back together, but his death in 2007 stole that dream. My mother and I moved to East Tennessee that same year. There I discovered my love for not just hot rods, but diesel trucks. With guidance from my brother-in-law I cultivated a natural talent for welding and building my first truck at 18. After a few years of continued dedication, I was lucky enough to complete a build to showcase at 2016 SEMA show.
When I was offered the opportunity to work on this show it was truly a dream come true. To work alongside some of the greatest in the industry is an honor. There are no words to describe the feelings you get doing these builds for the ones who truly deserve them. Not only am I living my dream, but I feel I get to connect to something that was taken away from me. I know my father is standing these beside me on every build. I'm walking in his foot steps and carry not only his dreams, but his legacy.
Bryan Fuller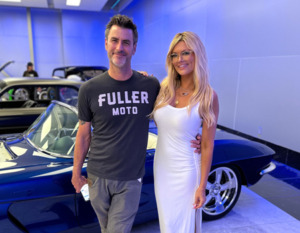 Incredibly passionate about his craft and making dreams come to life, Bryan created Fuller Moto as the ultimate toy shop and place to truly experience life to the full(er). Bryan is a Master Builder, Designer, TV Personality and Author. Bryan realized his passion for cars as an eighth grader while helping his dad rebuild a 1965 Ford Mustang. In High School he built two cars of his own, including a souped-up 1930 Ford Model A with a Chevy 327 V8 engine. At the time he considered building cars just a hobby and went on to college, earning a biology degree with the hopes of becoming a chiropractor. However, the unforeseen death of his father while at the early age of 20 changed all that. Bryan grew determined not to waste his life doing something he didn't absolutely love and and instead set out to make his passion his career.
Wes Hines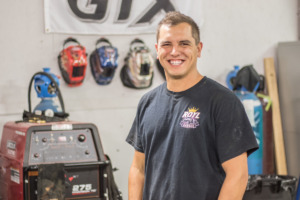 Wes Hines is the wiring and engine specialist at ROYL Garage. He is also a mechanical tech lead at Fuller Moto in Atlanta, Georgia while owning and operating his own company, Hinesight Enterprises LLC. Wes started working on motors at age 14 and hasn't once looked back. Wes can build any vehicle and wire any engine. Wes's first job was at a Porsche racing shop at the age of 15. By age 18, he sold his landscaping business and became a full-time engine tech. Wes soon transitioned to a Subaru aftermarket shop and after 4 years there secured a job at Fuller Hot Rods. Wes has since been involved with constructing some of the most world renowned custom cars and motorcycles. He has built his own company specializing in wiring harness development, drivetrain configuration, and powertrain integration. We are thrilled and more confident because we have him as our engine, transmission and chassis expert at ROYL Garage.
Mike Cook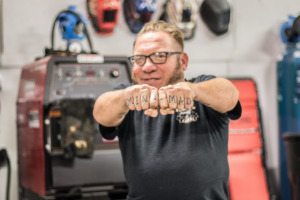 Mike Cook of Oklahoma City, OK is the son of the legendary car builder, Steve Cook and his wife Kim Cook. Being a 4th generation car enthusiast from both sides of the family, it comes naturally that Mike has worked at Steve Cook Creations as an office manager, parts guy, social media specialist and bodyman. Mike has worked on all kinds of classic cars, from Brass Era cars, to Pebble Beach Concours DeElegance show winners to Ridler winners to Goodguys Custom and Custom Rod of the Year custom cars.
Mike met Will Posey of Big Oak Garage and designer at ROYL Garage, as they both had cars in the Detroit Autorama Great 8 in 2015. He has since helped Big Oak Garage in various capacities.
Besides working at SCC, Mike has been featured on the TV series Monster Garage twice, including the series final "Allstar Episode", and has worked hand in hand with legendary car builders, Bill Hines, Darryl Starbird, and Gene Winfield. Mike is also a retired daredevil. That is where the Evel Midget name came from. Mike is one of the only people endorsed by the Knievels to use the name Evel.
Mike holds the World Record of Walls of Fire by riding through on a Motorcycle (21 walls).  He accomplished the 1st Tandem Person Motorcycle Backflip with Travis Pastrana, holds the Longest Tandem Person Motorcycle Jump (113ft) with Trigger Gumm, and he is the first Midget to Jump over a Car. Mike was also featured on MTV's Jackass Tribute to Evel Knievel, as well as 24hr Jackass Takeover, American Daredevils and America's Got Talent with Dr Danger.
Mike recently performed a part in the Martin Scorsese film, Killers of a Flower Moon, to be released later this year. And his latest project is working as the parts specialist on the new MotorTrend TV series, Ride Of Your Life with Courtney Hansen.
Jesse Spade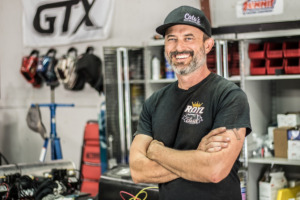 Jesse Spade is the project manager at ROYL Garage and the owner of Jesse Spade Designs, LLC. His automotive career began in high school when he took a job as a service porter at the local Jeep dealership. He quickly became curious about the work happening in the shop and befriended a few mechanics who taught him the basics of wrenching on cars. It was here that he built his first custom car at age 19, a 1976 Datsun 280Z. From there, Jesse's interest turned to custom Jeeps, which ended up being the next 20 years of his career. During this time, he was also building and flipping custom motorcycles on the side, which was his real passion. Jesse also took an interest in hot rods and built his own Jeep Rod from a 1950 Jeep CJ-3A which went to SEMA in 2012. His love for building motorcycles eventually outweighed the Jeep love, and he made the switch to building bikes full time. As much as he enjoyed building bikes, it just wasn't paying the bills, so he started picking up jobs creating metal art for a local art consulting firm, which continues to be a large part of his business. Most of the art is for the hospitality industry, ending up in hotels, restaurants, and bars, which is phenomenal exposure for him. Now, Jesse enjoys the perfect balance of creating metal art, building custom motorcycles and building custom cars at ROYL Garage with Courtney Hansen and her team.
Jackson Conn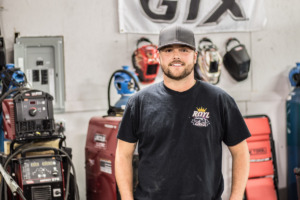 Jackson Conn is 23 years old and from Sylacauga, Alabama. He has talent way beyond his years. And while his chops are serious, his personality and humor make him the energetic light of any shop, definitely at ROYL Garage. Jackson's love for cars and motorcycles started at a very young age while watching, helping, and learning from his father. The need for speed runs through his blood. It began at the age of three when Jackson's dad made him ride his first dirt bike. From then on his love for and knowledge of cars and motorcycles has grown deeper. From the very beginning he also fell in love with the fabrication and welding side of building and spent most of his life behind a welding hood or using a hammer to move metal. Between Jackson's father, the guys who work at their shop and teaching himself different techniques of welding, fabricating & shaping metal Jackson got to where he can build just about anything. Throughout high school and after graduation he attended welding and machine shop classes at Central Alabama Community College. From there he got the amazing opportunity to intern/work at Bryan Fuller's Shop "Fuller Moto" in Atlanta, Georgia, which taught him a great deal and expanded his love and knowledge for building cars and motorcycles to new levels. Through his friendship with Bryan Fuller and others Jackson was introduced to Courtney Hansen and asked to be a part of this amazing Television show, Ride Of Your Life With Courtney Hansen for MotorTrendTV and MotorTrend+. This incredible opportunity has opened many new doors and adventures for Jackson and allows him to say that he is 100% living his childhood dreams. He can't wait to see what the future holds and hopes to see you all at the next event!
Curtis Stover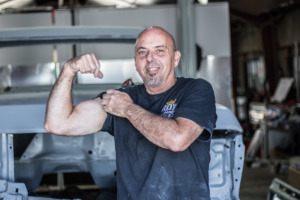 Curtis has been passionate about cars his entire life. At an early age be helped with his dad's hot rod builds and together they helped Curtis's uncle with his late model dirt stock cars. By age 15 Curtis accomplished the incredibly challenging feat of building one 57 Chevy, out of two. By age 16 he finished the car in his high school auto body class. The movie 'Grease' had just came out, so Curtis painted it black with flames. He went on to work at a body shop while attending college and that propelled him into a career in the automotive insurance claims industry. After winning awards at a few car shows with his personal builds Curtis opened his own shop almost 20 years ago. His clients have included several pro athletes as well as pro car and motorcycle builders. His work has won several Goodguys' events, Outstanding Paint awards, a pick at the Detroit Autorama, the Super Chevy Show, The World of Wheels, Truckin' Nationals, and his builds have appeared in numerous magazines. Curtis is now working part time as a builder at ROYL Garage as part of Ride Of Your Life TV series for MotorTrend and MotorTrend+.